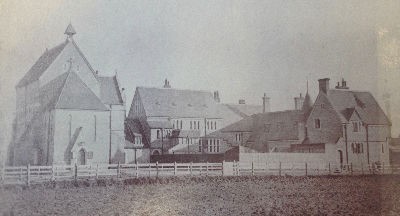 The building of the present church began in November 1870, when the first stone of the Chancel was laid. By July 1871 enough had been built for worship to begin and the temporary church consisted of Chancel, Organ Chamber, Sacristy, Vestry and small Nave seating about 200. By 1874 the church was finished and was consecrated by the Bishop of the Diocese (Mackarness) on 22 December 1874. The church was as we now see it except that the north aisle was widened and the Lady Chapel added in 1898, the porch built in 1905 and the vestries enlarged in 1886.
The title of St. Stephen was chosen because St. John Baptist (Clewer Convent) was the first in dignity among the prophets and St. Andrew (Clewer Parish Church) was first called to be an apostle, so St. Stephen was Christ's first martyr. The architect entrusted with the building of the Church was Henry Woodyer who also built the Chapel at the Convent of C.S.J.B.

Pictured above the exterior of old Mission House, in use from 1868 to 1874 (Windsor Archives)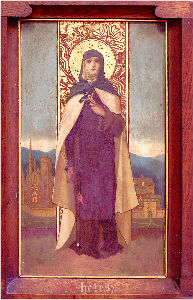 As mentioned above, the Sisters were working in the district from the beginning and this connection continued for many years, in fact at least one Sister was working in the parish until 1947. They continued to live at the convent until falling numbers made the building too big and they moved to Begbroke in 2001. An appeal for funds, made in January 1873, tells us that the Parish contained about 1900 inhabitants 'almost all poor and not one above the middle class.'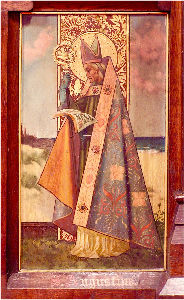 The Parish rooms are to the south of the church. These buildings were once part of St. Stephens College, a boarding school for girls run by the C.S.J.B Sisters. The College worshipped at St. Stephen's until it moved to Folkestone in 1919. The building was converted in the 1990's to become St Stephen's School Rooms and consists of a hall, an office, a meeting room, a kitchen and an independent playschool. The Vicarage, situated opposite the Church, was completed in 1886 and is now an hotel.